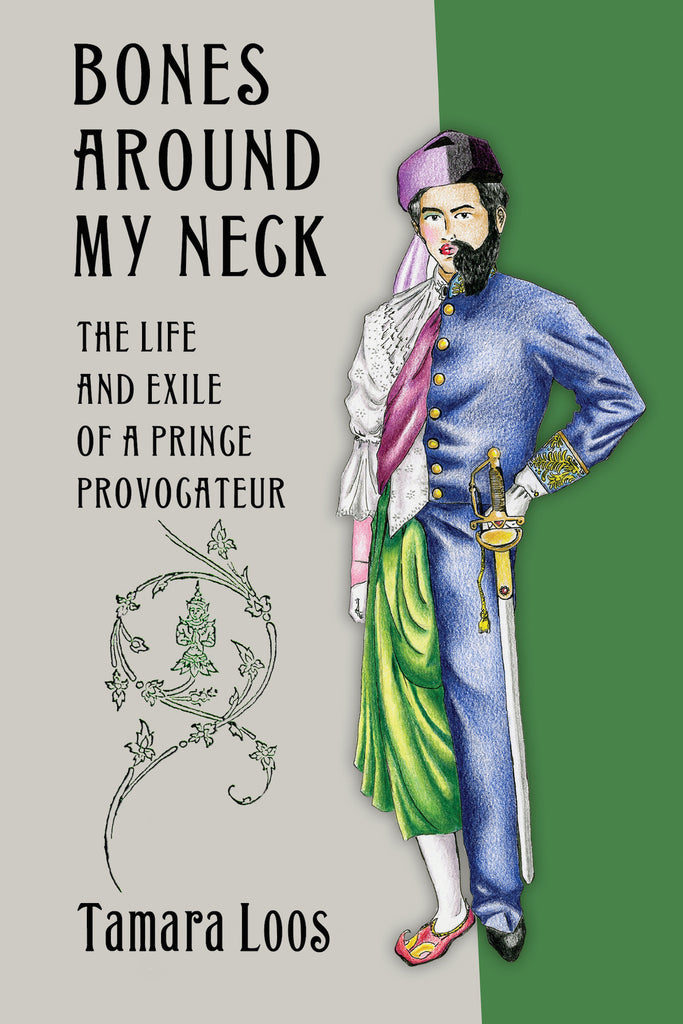 Year published :June 2017
Pages :240 pp. paperback
Size :15.5 x 23 cm.
Black & White illustrations :26
Rights :Southeast Asia
ISBN: 9781501704635
Bones Around My Neck: The Life and Exile of a Prince Provocateur
by Tamara Loos
Prince Prisdang Chumsai (1852–1935) served as Siam's first diplomat to Europe during the most dramatic moment of Siam's political history, when its independence was threatened by European imperialism. Despite serving with patriotic zeal, he suffered irreparable social and political ruin based on rumors about fiscal corruption, sexual immorality, and political treason. In Bones around My Neck, Tamara Loos pursues the truth behind these rumors, which chased Prisdang out of Siam. Her book recounts the personal and political adventures of an unwitting provocateur who caused a commotion in every country he inhabited.
Prisdang spent his first five years in exile from Siam living in disguise as a commoner and employee of the British Empire in colonial Southeast Asia. He then resurfaced in the 1890s in British Ceylon, where he was ordained as a Buddhist monk and became a widely respected abbot. Foreigners from around the world were drawn to this prince who had discarded wealth and royal status to lead the life of an ascetic. His fluency in English, royal blood, acute intellect, and charisma earned him importance in international diplomatic and Buddhist circles. 
Prisdang's life journey reminds us of the complexities of the colonial encounter and the recalibrations it caused in local political cultures. His drama offers more than a story about Siamese politics: it also casts in high relief the subjective experience of global imperialism. Telling this history from the vantage point of a remarkable individual grounds and animates the historical abstractions of imperialism, Buddhist universalism, and the transformation of Siam into a modern state. 
Highlights 
Gives a full, objective portrait of a Siamese prince whose controversial history has led factions to paint him as a traitor, a visionary, and everything in between
Traces the activities of Prince Prisdang, the first Siamese diplomat in Europe during the era of European colonial expansion in Southeast Asia
Shows the prince's devotion to Buddhism through his exile from Siam, monkhood in Sri Lanka, and eventual return to his home country
Scrutinizes disparate views about the prince that have arisen in historical accounts
About the Author 
Tamara Loos is Associate Professor of History and Southeast Asian Studies at Cornell University. She is the author of Subject Siam: Family, Law, and Colonial Modernity in Thailand, also from Cornell. 
What Others are Saying 
"This biography of a Siamese aristocrat who challenged royal absolutism and suffered the consequences offers a novel account of an Asian kingdom facing pressures from Western colonial powers and from internal critics to reform the political system. At stake was the sovereignty of Siam. Bones around My Neck is evocatively illustrated with terrific and meticulously researched images. Prince Prisdang was controversial in his time and remains so today when respect for the incumbent Thai monarch has morphed into an abiding and sentimental reverence. Tamara Loos shows us how Prince Prisdang's entanglements with royal authority and its networks of power and influence can help us understand the political and cultural dynamics at work in modern Thailand. Loos's searching, probing account has few peers in Thai historiography whether in English or the vernacular. The source materials allow her unusual access to the mental universe of Prince Prisdang, a talented, articulate, highly intelligent but ultimately enigmatic member of a Thai royal line."—Craig Reynolds, Australian National University, author of Thai Radical Discourse: The Real Face of Thai Feudalism Today 
"With the eye of a miniaturist and the ambition of a muralist, Tamara Loos navigates several continents through the life of the political entrepreneur and cross-cultural translator Prince Prisdang of Siam. Firmly anchored in Thai and colonial sources, and couched in exquisite prose, this meticulously researched book defies the boundaries of discipline, genre, and nation in its embrace of emotion, rumor, and belief as crucial vectors of inquiry. Bones Around My Neck does more than shed light on Southeast Asian pasts. It presents exciting new possibilities for the writing of history and biography, and comes as a welcome and inspirational addition to college curriculum."—Penny Edwards, University of California, Berkeley 
"The story of Prince Prisdang Chumsai of Siam offers a window onto the many interlocutors between colonial and colonized societies and between various modernities. Rather than making her subject the state, bureaucracy, or an abstract institution, like historians typically do, Tamara Loos illuminates the history of these encounters through this individual and his paradoxical fates. This tremendously intriguing story also tells us how Siam remained separate from the rest of the world even as it became integrated into it—a condition that still applies to Thailand today. The beauty of this biography is in its being an open-ended book, leaving its interpretation up to readers."—Thongchai Winichakul, University of Wisconsin–Madison 
Keywords 
Thai history | Siam | biography | royal history | colonialism | diplomacy | Buddhism