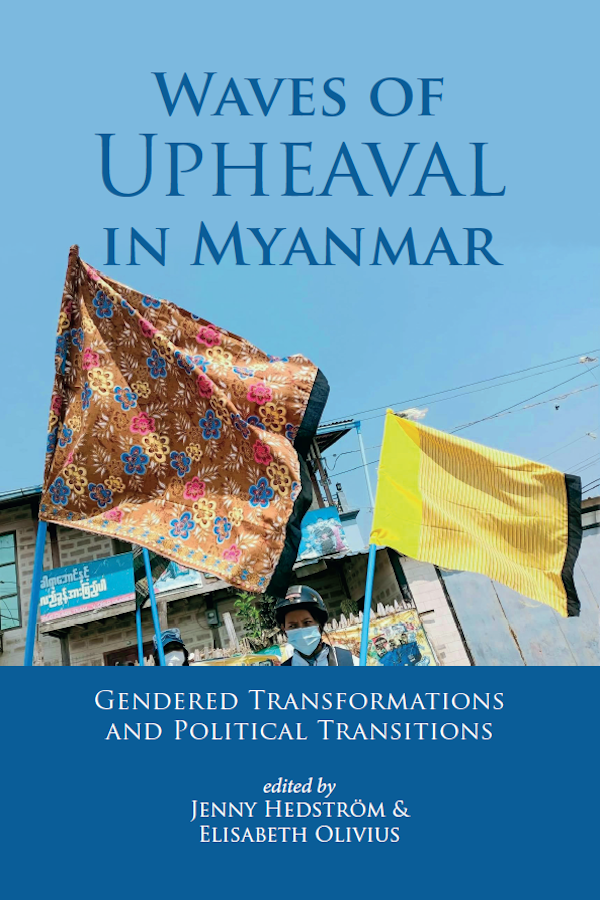 Year published :January 2023
Pages :272 pp.
Size :15 x 23 cm., paperback
Color illustrations :19 illus.
Maps :1 map
ISBN: 9788776943233
Waves of Upheaval in Myanmar: Gendered Transformations and Political Transitions
by NIAS Press
Edited by Jenny Hedström and Elisabeth Olivius
This is the first comprehensive account of the multifaceted processes of gendered transformation that took place in Myanmar between 2011 and 2021, and which continues to shape events today. The period began with the end of direct military rule and the transition to a hybrid, semi-democratic regime, precipitating far-reaching political, economic and social changes across Myanmar. To date, the gendered dynamics and effects of this transition have not yet received sustained scholarly attention. Remedying this gap, this book provides a much-needed historical corrective through a careful, nuanced analysis of the gendered dynamics of transitional politics, institutions and policymaking; feminist resistance, mobilization, and movement building; and their effects on labor, land, and everyday lives. Although the February 2021 military coup brought an end to this decade of experimentation and transition, in the richness of its analysis and detail, the book offers a deeper understanding of the current political situation in Myanmar. The gendered changes that the transition brought about have shaped both the current configuration of masculinized, military dictatorship, as well as the unprecedented role played by women in resistance to military rule after the 2021 coup. This analysis of the gendered dynamics and effects of the recent decade of political transition in Myanmar is therefore critical for understanding current events, as well as the ways in which Myanmar's political landscape might continue to be reshaped.
About the Editors
Jenny Hedström is an associate professor in war studies at the Swedish Defence University. Her research concerns the relationship between gender and war, with a focus on rebel warfare in Myanmar.
Elisabeth Olivius is an associate professor in political science at Umeå University whose research explores how gendered relations of power are produced and reshaped in conflict, displacement and peacebuilding.
What Others are Saying
"After reading Waves of Upheaval, I will never again use the term 'transitional' lightly. Each engrossing chapter has made me think about what exactly happens in diverse Myanmar women's lives during alleged reforms, fragile ceasefires and arrogant land grabs. This is truly a model of collective feminist investigation." — Cynthia Enloe, Clark University
"For decades, political research on Myanmar neglected gender and suppressed feminist critique. No longer. Waves of Upheaval is a welcome obituary for that doddery version of politics as the affairs of men. Its talented editors have brought emerging writers together with established thinkers and prominent activists to explain how government, labour, war and revolution in Myanmar today turn on gendered ideas and practices. Through close inquiries into landscapes, violence, education, displacement and peace-building, the book's contributors show that women and differently gendered people are not ancillary to Myanmar's politics. They make them." — Nick Cheesman, Australian National University