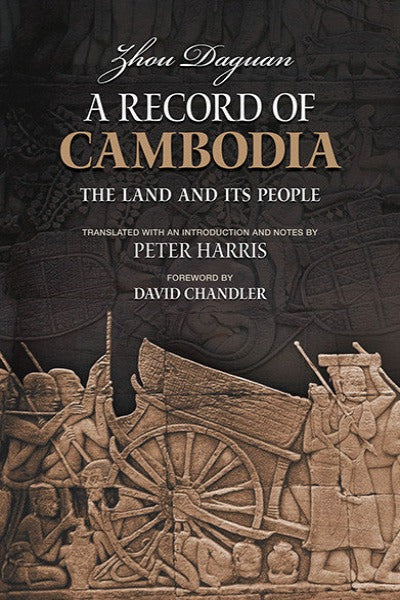 Year published :2007
Pages :184 pp.
Size :14x21 cm.
Color photograph :26
Maps :2
Rights :world
ISBN: 9789749511244
Record of Cambodia, A: The Land and Its People
by Zhou Daguan
Only one person has given us a first-hand account of the civilization of Angkor. This is the Chinese envoy, Zhou Daguan, who visited Angkor in 1296–97 and wrote A Record of Cambodia: The Land and Its People after his return to China. To this day, Zhou's description of the royal palace, sacred buildings, women, traders, slaves, hill people, animals, landscapes, and everyday life remains a unique portrait of thirteenth-century Angkor at a time when its splendors were still intact.
Very little is known about Zhou Daguan. He was born on or near the southeastern coast of China, and was probably a young man when he traveled to Cambodia by boat. After returning home he faded into obscurity, though he seems to have lived on for several decades. Much of the text of Zhou's book seems to have been lost over the centuries, but what remains still gives us a lively sense of Zhou the man as well as of Angkor.
In this edition, Peter Harris translates Zhou Daguan's work directly from Chinese to English to be published for the first time. Earlier English versions depended on a French translation done over a century ago and lost much of the feeling of the original as a result. This entirely new rendering, which draws on a range of available versions of the Zhou text, brings Zhou's many observations vividly and accurately back to life. An introduction and extensive notes help explain the text and put it in the context of the times.
"Peter Harris has given a new generation of readers a masterly version of Zhou's timeless and fascinating account that scholars of Cambodia are sure to relish and visitors to Angkor are sure to enjoy."—David Chandler
Peter Harris is Senior Fellow at the Centre for Strategic Studies: New Zealand in Victoria University of Wellington.
Reviews and Awards
Choice Outstanding Academic Title 2005:
Chosen by the Choice editorial staff, these titles are awarded for their excellence in scholarship and presentation, the significance of their contribution to the field, and their value as important—often the first—treatment of their subject:
"This book, which presents a new translation into English of a Chinese traveler's account of Angkor in the late 13th century, is a highly recommended, extremely welcome addition to the field of Southeast Asian studies. This translation is the first to present this material in English directly from the Chinese, and not via older French translations of the original. As such, the style is lively and engaging, and the text is surrounded by useful notes and commentary by translator Harris (Univ. of Wellington); although a China scholar, he is also familiar with Cambodia and the modern ruins of Angkor. An introduction by David Chandler helps place the translation in context. Although of direct relevance to students seeking to know more about what Angkor was like long ago when kings, citizens, and slaves lived there, and when everyday life took place as normal around its buildings, the book also has much to offer readers generally interested in ancient worlds and civilizations. A nice selection of color photos supplements the text and helps orient readers to what this traveler, Zhou Daguan, may have seen in 1297." Summing up: Highly recommended. All levels/libraries. — S. Maxim, University of California, Berkeley