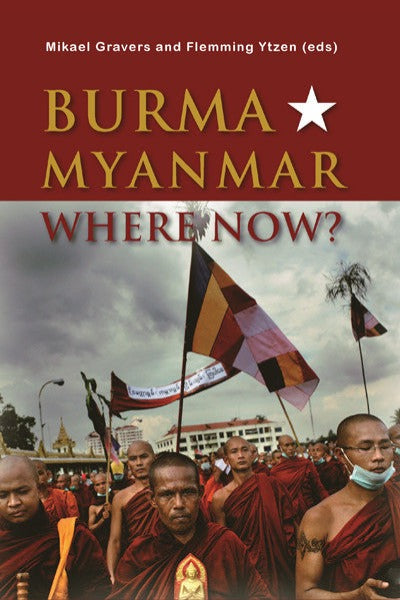 Year published :September 2014
Pages :456
Size :22.8x15.2 cm.
Rights :Thailand, Cambodia, Laos, Myanmar, and Vietnam
ISBN: 9788776941130
Burma/Myanmar – Where Now?
by NIAS
Edited by Mikael Gravers and Flemming Ytzen
Recent changes in Burma/Myanmar pushed through by the new government of Thein Sein have been called the 'Burmese democratic spring'. While the international media have mainly focused on the economic opportunities offered by these changes and on the doings and sayings of the opposition leader, Aung San Suu Kyi, the reality is far more complex. The country is desperately poor, divided by ethnic and religious rivalries, and continues to suffer from some of the world's most intractable military conflicts. In addition, powerful factions within the ruling elite oppose the reform process. 
Where, then, is the country heading? What are the key challenges it will face? Who are likely to be the key players in the unfolding events? What implications are there for international actors in arenas like policy, diplomacy, development and business? With contributions on topics like the political situation, international relations, ethnic and religious rivalries, the economy and the prospects for investment and development, long-time observers of the Myanmar/Burmese situation offer insights and analysis that address these issues. The material is augmented with essential background information and relevant names and references. The result is a tightly focused volume that will appeal to a broad readership interested in the current situation and its implications – scholars, journalists, diplomats, business people, activists, tourists, etc.
About the Editors
Mikael Gravers is an anthropologist at the University of Aarhus. Widely respected for his research on Burmese issues (especially on the Karen of Burma and Thailand), his Exploring Ethnic Diversity in Burma was published by NIAS Press in 2007.
Flemming Ytzen is an editor and columnist at the Danish daily, Politiken. He has long been engaged in and written on the situation in Myanmar/Burma.
Highlights
Considers where the recent changes in Burma may be leading.

Provides essential background information and the relevant names and references.
Offers focused analysis by scholars and journalists on key issues.
Maps and illustrations
Keywords
Current Affairs | religion | nationalism and nation-building | conflict studies | development studies | economics | Burma