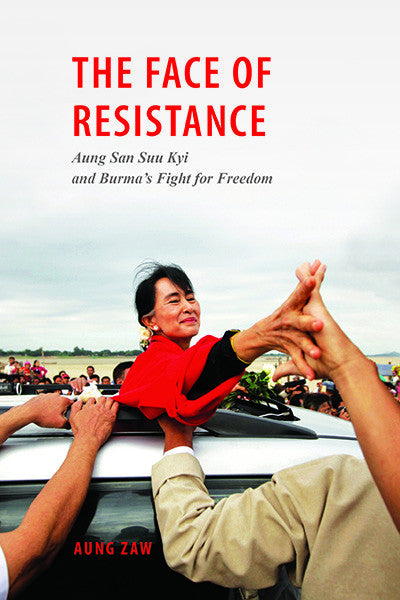 Year published :2013
Pages :159 pp.
Size :14x21 cm.
Black & White photograph :24
ISBN: 9786162150661
Face of Resistance, The: Aung San Suu Kyi and Burma's Fight for Freedom
by Mekong Press
This title is currently out of stock. If you wish to purchase, please e-mail us at ecommerce@silkwormbooks.com.
Aung San Suu Kyi is a world-renowned, inspirational symbol of Burmese resistance and courage. Released in 2010 after spending fifteen of the previous twenty-one years under house arrest, she emerged into a Burma that has finally begun to court democracy, and many are now looking to her to lead the country. But is it possible for Suu Kyi to mend the deep divisions in Burmese society? Who are the groups that make up Burma's face of resistance? What is it they are fighting for? And how can she unite these disparate factions into one cohesive group to take on the current regime in the elections scheduled for 2015?
Former political activist and exile Aung Zaw explores these questions in the context of his own experiences, and sheds light on those people who have fought alongside Suu Kyi for decades in Burma's resistance movement. The book profiles key members of the National League for Democracy, examines the background of prominent activists involved in the 1988 student uprising, and focuses on the next generation of democracy leaders. From an insider's perspective, Aung Zaw demystifes the volatile state of contemporary Burmese politics and the background of Burma's current president, Thein Sein, and poses questions about the ongoing debate of international sanctions versus investment in the light of Burma's untapped natural resources.
The Face of Resistance is a timely and succinct reminder that despite international accolades, Burma is far from free.
About the Authors
AUNG ZAW is the founder of The Irrawaddy news publication, which has provided continuous coverage of events in Burma and Southeast Asia for twenty years. His articles have appeared Foreign Policy, Time Magazine, Asian Wall Street Journal, The Guardian, and The New York Times newspapers. He is a laureate of the 2010 Prince Claus Fund in the Netherlands, awarded for his commitment to upholding freedom of information.
What Others are Saying
"This book indeed gives a face to the resistance against Burma's dictatorship. Brilliantly written, it should be read by everyone interested in contemporary Burma and its ongoing struggle for democracy." —Bertil Lintner
Reviews
Keywords
Southeast Asia | Burma | Aung San Suu Kyi | democracy movement | electoral politics | political control and freedoms