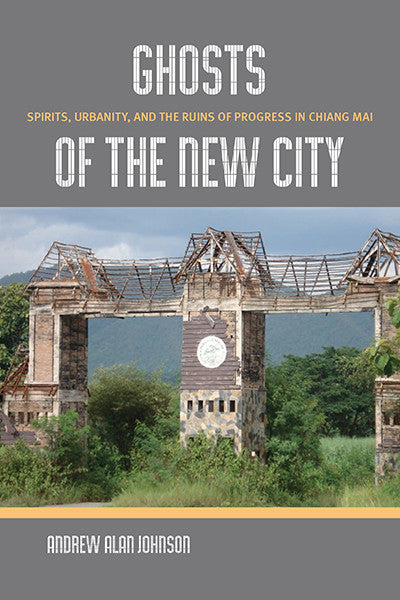 Year published :September 2014
Pages :202 pp.
Size :14x21 cm.
Rights :Southeast Asia
ISBN: 9786162150821
Ghosts of the New City: Spirits, Urbanity, and the Ruins of Progress in Chiang Mai
by Andrew Alan Johnson
Chiang Mai (literally, "new city") suffered badly in the 1997 Asian financial crisis as the Northern Thai real estate bubble collapsed along with the Thai baht, crushing dreams of a renaissance of Northern prosperity. Years later, the ruins of the excesses of the 1990s still stain the skyline. In Ghosts of the New City, Andrew Alan Johnson shows how the trauma of the crash, brought back vividly by the political crisis of 2006, haunts efforts to remake the city. For many Chiang Mai residents, new developments harbor the seeds of the crash, which manifest themselves in anxious stories of ghosts and criminals who conceal themselves behind the city's progressive veneer.
Hopes for rebirth and fears of decline have their roots in Thai conceptions of progress, which draw from Buddhist and animist ideas of power and sacrality. Cities, Johnson argues, were centers where the charismatic power of kings and animist spirits were grounded; these entities assured progress by imbuing the space with sacred power that would avert disaster. Johnson traces such magico-religious conceptions of potency and space from historical records through present-day popular religious practice and draws parallels between these and secular attempts at urban revitalization.
Through a detailed ethnography of the contested ways in which academics, urban activists, spirit mediums, and architects seek to revitalize the flagging economy and infrastructure of Chiang Mai, Johnson finds that alongside the hope for progress there exists a discourse about urban ghosts, deadly construction sites, and the lurking anxiety of another possible crash, a discourse that calls into question history's upward trajectory. In this way, Ghosts of the New City draws new connections between urban history and popular religion that have implications far beyond Southeast Asia.
About the author
ANDREW ALAN JOHNSON is assistant professor of social sciences (anthropology) at Yale-NUS College in Singapore.
What others are saying
"Andrew Johnson provides ʽthick description' in the best ethnographic sense of the hauntings, mediums, and supernatural cults that are very much aspects of contemporary life in Chiang Mai. He demonstrates well that despite the expectation that modernity brings a rupture with the past, Chiang Mai people of all classes and all walks of life still find sources of potency in traditions inherited from the premodern world. I was deeply engaged by this book."—Charles Keyes, professor emeritus, University of Washington
"A farang observer with a wry sense of humor, an eye for detail, and a feel for history, Drew Johnson has given us a fascinating study of "progress" in contemporary Chiang Mai. Johnson shows why spirit mediums are as necessary as modern architects for preserving the unique identity and ensuring the future prosperity of this ancient city in Thailand's north."—Tony Day, independent scholar