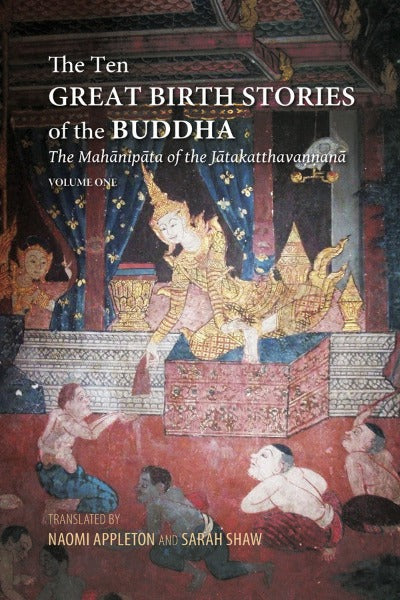 Year published :2015
Pages :Vol.1: 360 pp., 77 color illustrations
Vol.2: 338 pp., 86 color illustrations
Size :15x23 cm.
ISBN: 9786162151132
This book is dedicated to H.R.H. Princess Maha Chakri Sirindhorn.
Also available in hardcover
This is the first complete English translation in over a century of the ten great birth stories that form the Mahānipāta of the Jātakatthavaṇṇanā. These stories narrate the Bodhisatta's ten final lives in the human realm before his final life and enlightenment as the Buddha. Replete with adventure, subterfuge, magic, and intrigue, the tales also showcase Buddhist philosophy and morality as they chronicle the multi-life quest of the Bodhisatta to achieve the Ten Perfections—virtues that must be refined before he can reach his final goal of awakening.
These vivid, entertaining, and definitive translations are a tremendous step forward in re-establishing these tales as ancient literary treasures of South Asia. Careful notes and introductions supplement the translations with important background information and analysis. A general introduction situates the stories in their wider textual tradition, addresses key themes, and explores the role of the stories in Buddhist art and practice. Each volume features a gallery of colour images showing the stories' central position in the Buddhist visual landscape and imagination of Southeast Asia.
Eminently authoritative and readable, these new translations will delight general readers and specialists alike with captivating plots and penetrating philosophical insights that reveal the stories' deep, nuanced roots in the religious and cultural world of the Buddha.
In cooperation with Chulalongkorn University Press
About the translators
NAOMI APPLETON is a senior lecturer in religious studies at the University of Edinburgh. She authored Jātaka Stories in Theravāda Buddhism: Narrating the Bodhisatta Path (Ashgate 2010) as well as a number of other books and articles on early Indian religious narrative.
SARAH SHAW is a member of the Faculty of Oriental Studies at the University of Oxford and an honorary fellow of the Oxford Centre for Buddhist Studies. She has translated a selection of jātaka stories for the Penguin Classics series and has written widely on Buddhist narrative, meditation, and practice.
What others are saying
"This is a much-needed new translation of the Mahānipāta—accurate, dependable, and readable. With an insightful general introduction on jātaka literature and the Bodhisatta path, and an introduction to each story comparing the narratives with sources from both Buddhist and non-Buddhist traditions, this translation is an asset for both Buddhist scholars and general readers."—Prapod Assavavirulhakarn, Chulalongkorn University
Review