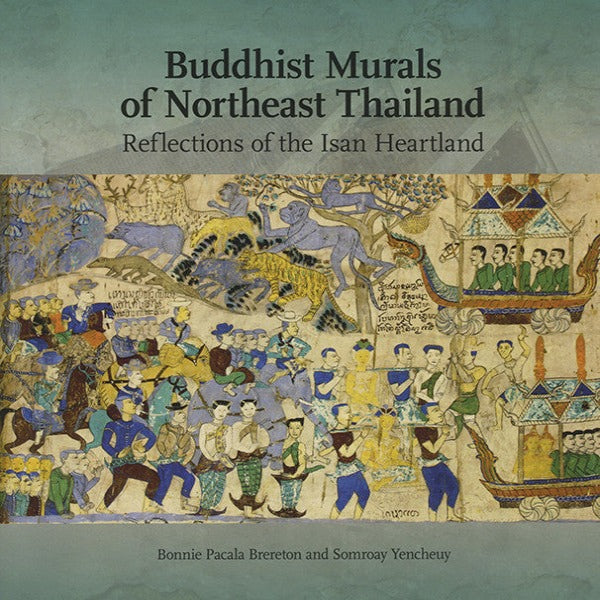 Year published :2010
Pages :96 pp.
Size :25.5x25.5 cm.
Color illustrations :Through-out
ISBN: 9786169005315
Buddhist Murals of Northeast Thailand: Reflections of the Isan Heartland
by Mekong Press
Bonnie Pacala Brereton and Somroay Yencheuy
Paperback
Books on mural painting in Thailand have tended to focus on works commissioned by royalty or other elites from the centers of power. This volume is the first to examine a vibrant sub-school of painting from the rural heartland of the Northeastern Region, also known as Isan. The murals are distinct in that they are painted on the exterior of ordination halls and their compositions give a sense of movement around the building. The book examines characters depicted in the murals and reveals that many are, in fact, the villagers themselves as they participate in the festivals and rituals that inform their understanding of Buddhism.
Written as an introduction to the topic, Buddhist Murals of Northeast Thailand is a multifaceted and empathetic study of these lovely and lively paintings, and will appeal to anyone interested in the Mekong Region, as well as to scholars of art history, Buddhism, and anthropology in Southeast Asia.
About the Authors
Bonnie Pacala Brereton is an American art historian and Buddhist studies scholar who specializes in vernacular forms of cultural expression in Thailand's peripheral regions. Somroay Yencheuy grew up in a silk-weaving village in Khon Kaen and has written extensively in Thai on Isan art, literature, shadow play, and traditional material culture. Both are researchers at the Center for Research on Plurality in the Mekong Region, Khon Kaen University.
Highlights
Uncovers a little-known group of pre-modern murals created by Lao villagers
Explores the relationship between murals and cloth banners
Summarizes the local stories depicted, including the

Vessantara Jataka

,

Pha Lak Pha Lam

, and

Sin Sai

Examines the paintings in their regional context rather than as folk versions of so-called classic art
Analyzes the relationship between the murals' content, local Buddhist practice, and teachings
Review
Keywords
Buddhist murals | Thailand | Isan | Buddhist temples | Buddhist art