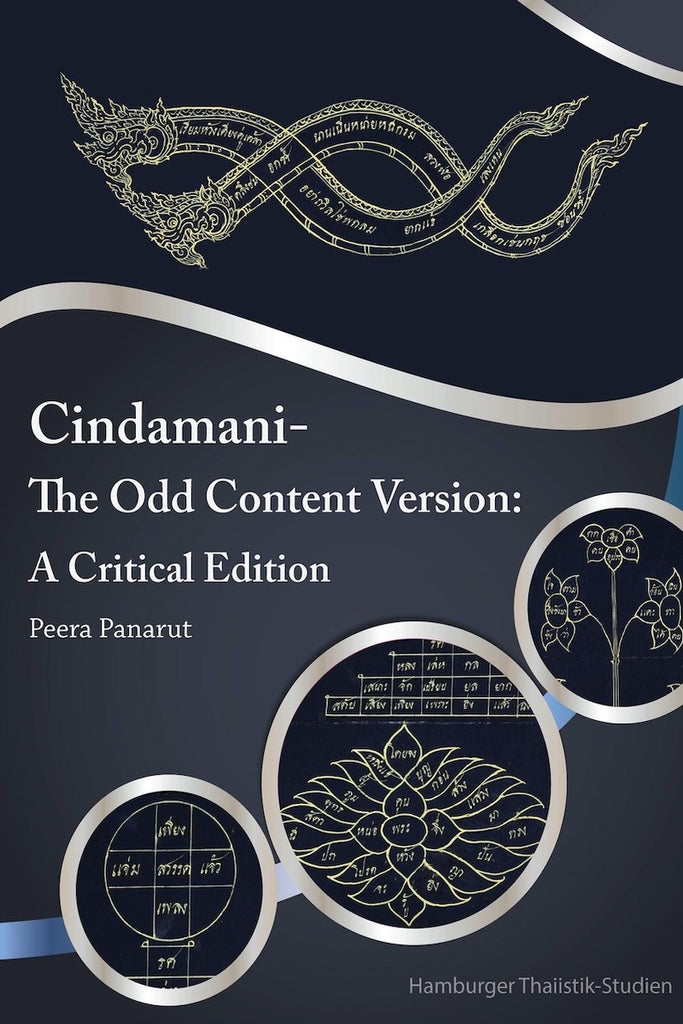 Year published :July 2020
Pages :201 pp.
Size :21 x 29.7 cm.
Rights :Thailand only
ISBN: 9786162151651
Cindamani–The Odd Content Version: A Critical Edition
by Peera Panarut
Cindamani–The Odd Content Version (Thai: จินดามณีฉบับความแปลก) is the least known and studied version among the recognized texts of Cindamani, the traditional manual on Thai orthography and poetics, whose earliest tradition can be traced back to the reign of King Narai of Ayutthaya in the second half of the seventeenth century. Despite being labeled by modern scholars as odd, this version shares a close content related to the other versions from the Ayutthaya period, especially Phra Horathibodi's Cindamani, the earliest and most widely circulated version whose content is tested in a rather large number of extant manuscripts. Thus, the Odd Content Version should not be considered entirely odd at all. 
However, as a result of a recompilation of the content by the scribes and scholars, possibly during the late eighteenth and the nineteenth centuries, Cindamani–The Odd Content Version also contains unique parts that do not appear in any other version, revealing unknown lessons on Thai language within the traditional education system. Though this version has become another significant primary source for studying Thai orthography and poetics, it has unfortunately hardly gained the proper academic attention it deserves. Thus, this study seeks to fill a gap by proposing a critical edition of Cindamani–The Odd Content Version. It is based on four extant manuscripts preserved at the National Library of Thailand. This volume presents a critical apparatus, editorial notes, and a preliminary translation into English, in addition to a philological analysis of the text and the extant manuscripts.

About the Author
PEERA PANARUT is a Ph.D. candidate in Thai and Lao Studies (Graduate School of the Centre for the Studies of Manuscript Cultures) at the Universität Hamburg. Having graduated with a Bachelor of Arts degree (Major: Thai; Minor: Comparative Literature) from the Faculty of Arts, Chulalongkorn University in 2012, he began his Master of Arts in the Languages and Cultures of Southeast Asia at the Asia-Africa-Institute, University of Hamburg in 2013 and submitted his Master's thesis entitled "Cindamani-The Odd Content Version: A Critical Edition" in March 2015. For this thesis, he was later awarded the Karl-H.-Ditze Prize 2017 for the most outstanding Master's thesis submitted at the Asia-Africa-Institute during the period 2015–2017. Since 2015 Peera Panarut has embarked on a PhD project on the transmission history of Ayutthaya literature in the Early Bangkok Period. His main research interests include manuscript cultures in Thailand, Thai epigraphy and palaeography, as well as textual criticism and transmission history of classical Thai literature.

ในจารีตตําราอักขรวิธีและประพันธศาสตร์ไทยนั้น มีจินดามณีที่หลงเหลือตกทอดมาเป็นที่รู้จักอยู่ ๕ ฉบับ แต่นับได้ว่า "จินดามณีฉบับความแปลก" เป็นที่รู้จักและเป็นที่ศึกษาน้อยที่สุด แม้ว่าจะมีนักวิชาการพิจารณาว่าเนื้อหาของจินดามณีฉบับนี้ "แปลก" กว่าฉบับอื่นๆ แต่ จินดามณีฉบับความแปลก ก็ยังสัมพันธ์เชิงเนื้อหากับ จินดามณีฉบับพระโหราธิบดี (หรือจินดามณีฉบับความพ้อง) ที่ตกทอดมาตั้งแต่สมัยอยุธยาอย่างใกล้ชิด และผ่านการชําระเรียบเรียงในระหว่างคริสต์ศตวรรษที่ ๑๘ และต้นศตวรรษที่ ๑๙ กระทั่งมีเนื้อหาบางส่วนที่ตรงกับฉบับพระโหราธิบดี และยังได้รวมเอาเนื้อหาที่แตกต่างออกไปและไม่เคยปรากฏอยู่ในจินดามณีฉบับอื่นๆ ด้วย ได้แก่ "บทเรียนว่าด้วยอักษรขอม" "บทเรียนว่าด้วยจำนวนนับแบบโบราณ" เป็นต้น จึงนับว่าเป็นหลักฐานสําคัญสำหรับศึกษาจารีตการศึกษาอักขระวิธีและประพันธศาสตร์ในวัฒนธรรมตัวเขียนสยาม แต่ยังไม่ได้รับความสนใจทางวิชาการมากเท่าที่ควร งานศึกษาฉบับนี้จึงตรวจสอบชําระ จินดามณีฉบับความแปลก โดยอาศัยฉบับตัวเขียนจำนวน ๔ ฉบับจากหอสมุดแห่งชาติ กรุงเทพฯ แล้วเสนอเป็นฉบับชำระเชิงวิพากษ์ อันนำเสนอตัวบทควบคู่กับบันทึกสอบเทียบ บันทึกผู้ตรวจชำระคำ