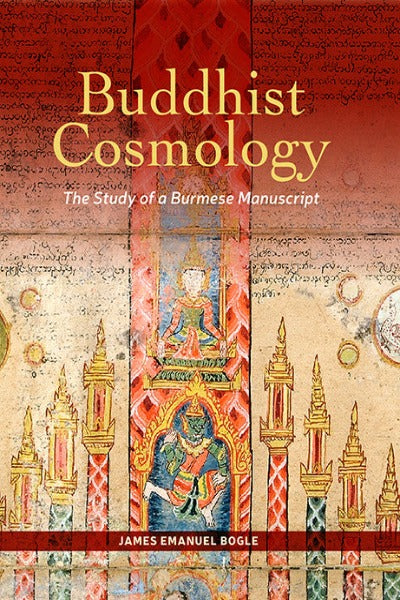 Year published :August 2016
Pages :176 pp. Hardcover
Size :23.5x31 cm.
Color illustrations :107
Black & White illustrations :57
Rights :World
ISBN: 9786162151224
Asian religious manuscripts have long been venerated as objects of worship and valued as teaching tools for the transmission of Buddhist teachings, philosophy and practice. Here, a Burmese Buddhist manuscript from the mid-nineteenth century is the catalyst for a study of the multifaceted Buddhist cosmos. The manuscript, which has several rare and remarkable features, not only lays out the complex array of realms in the Buddhist universe but also ventures into a number of esoteric and little-understood aspects of the Theravāda cosmological system and its inhabitants. By presenting translations and narration of much of the manuscript's text and sharing his careful analysis of its vivid illustrations, the author uncovers fascinating details of the Theravāda Buddhist cosmos. Enlivening this investigation are detailed color and black-and-white illustrations, including a complete reduced-scale reproduction of the manuscript, newly conceived didactic diagrams, and examples from other sources that help clarify and explain the complex and segmented Buddhist cosmology. 
Highlights
Provides insight into the complexity of the Theravāda Buddhist universe as represented in a Burmese manuscript from the nineteenth century. 
Describes both the cosmology and the cosmography of the universe according to Theravāda teachings. 
Presents prominent early Buddhists and their place in the pantheon of Buddhist disciples. 
Features artwork and explanatory illustrations throughout. 
About the author
James E. Bogle was born in Philadelphia, attended Pennsylvania Military College and, after military service in WWII, received a BFA degree from the School of Fine Arts, University of Pennsylvania. A charter member of the American Institute of Certified Planners, Bogle spent most of his professional career abroad, with assignments in twenty-six countries spanning four continents. His travels and interests allowed him to acquire a collection of Asian art and paintings. In 2010 he gave fifty Southeast Asian paintings to the Walters Art Museum in Baltimore, Maryland. His book Thai & Southeast Asian Painting: 18th through 20th Century was published in 2011 by Schiffer Publishing. 
What Others Are Saying 
"This beautifully illustrated book is an important contribution to the study of Buddhist cosmology. It will be very valuable to scholars and students of Buddhism alike." —Dr. William Pruitt, Pali Text Society
Keywords 
Theravāda cosmology 
| 
Buddhist universe 
| 
cosmography 
| 
realms 
| 
heavens 
| 
hells 
| 
Traibhumikatha 
| 
Burmese Buddhism