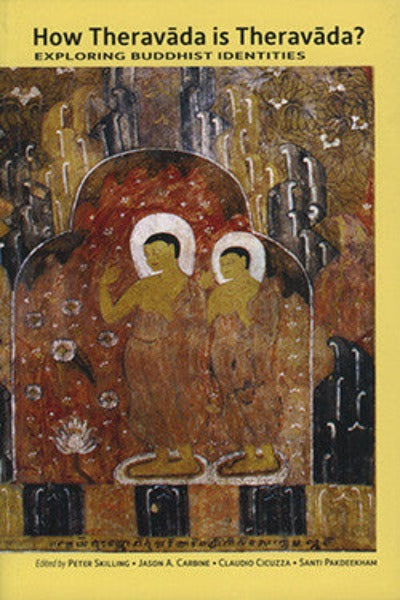 Year published :2012
Pages :640 pp.
Size :14x21 cm.
Color illustrations :100
Black & White illustrations :50
ISBN: 9786162150449
How Theravāda is Theravāda? : Exploring Buddhist Identities
by Peter Skilling
Edited by Peter Skilling, Jason A. Carbine, Claudio Cicuzza, and Santi Pakdeekham
Our understanding of the history of Buddhism in Southeast Asia has often been oversimplified, biased, or vague. The twelve innovative essays presented here shed new light upon terms such as sthavira, theravada, theriya, or theravamsa, each of which may carry a variety of meanings and connotations. Some of the contributors reconsider known data to present new and challenging perspectives on the complicated history of the Mahavihara and Abhayagiri schools in Sri Lanka, or the Indian historiographical tradition on the formation of Buddhist orders/schools (nikaya/acariyavada). Others stress the central role of lineages and their transmission, as well as the dynamic impulse, that this problematic provokes in terms of long-distance exchanges.
Topical inquiries based on epigraphical material reveal the force of institutional practices, or invite scholars to analyze the textual traditions of Southeast Asia more deeply, particularly its "transitive" mode of translation. Essays range across Buddhism in early Lanka, in Burma during the Pagan and Dhammachedi periods, in nineteenth-century Cambodia, and in Thailand from the late eighteenth to early twentieth centuries. This richly illustrated volume should figure in all academic programs of Buddhist Studies. 
About the editors
Peter Skilling is Maître de Conférences with the École française d'Extreme-Orient, Bangkok, Special Lecturer at Chulalongkorn University, and Honorary Associate of the Department of Indian Sub-Continental Studies, University of Sydney. He received his PhD (2004) and his Habilitation (2008) from the École Pratique des Hautes Études, Paris. He specializes in the history and literature of the Buddhism of South and Southeast Asia.
Jason A. Carbine earned his doctorate from the University of Chicago (2004) and is Associate Professor of Religious Studies at Whittier College. His research traverses the Buddhist cultures of Myanmar and Sri Lanka, and he teaches widely on religion and society across Asia and around the globe.
Claudio Cicuzza received his MA and PhD in Indology from the University of Rome, "La Sapienza". At present, he is teaching Buddhism and religious studies in Webster University, Thailand, and his current research focuses on the Pali literature of Central Siam and Pala period scholasticism of Northern India.
Santi Pakdeekham obtained a PhD (2007) from Chulalongkorn University and is Assistant Professor in the Department of Thai and Oriental Languages at Srinakharinwirot University, Bangkok. He publishes regularly on Thai literature and on cultural, literary, and historical relations between Thailand and Cambodia.
Reviews
Review by Justin Thomas McDaniel (Journal of Asian Studies, Vol. 72, No.4, November, 2013 )
Review by Stephen Berkwitz (Missoffri State Unifiersity)
Keywords