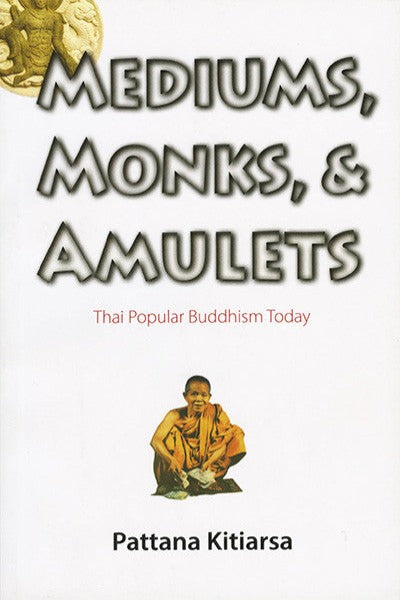 Year published :2012
Pages :197
Size :14x21 cm.
Black & White photograph :6
Rights :World except North America and UK
ISBN: 9786162150494
Mediums, Monks, and Amulets is a sophisticated yet accessible study of the state of popular Buddhist beliefs as they are practiced in Thailand today. Using a combination of focused case studies and analysis, Pattana Kitiarsa explores the nature and evolution of popular Buddhism over the past three decades by focusing on those individuals who practice, popularize, and profit from it.

The case studies profiled in this book include prominent spirit mediums and magic monks, the lottery fever surrounding the posthumous cult of folk singer Phumphuang Duangchan, the Chatukham‐Rammathep amulet craze, and the cult of wealth attributed to preeminent monk, Luang Pho Khun. It also explores the history of both popular and official opinion surrounding supernatural Buddhism and its clashes with the rationalist, modernizing policies of Thailand's monarchy and government.
Mediums, Monks, and Amulets contests the viewpoint that supernatural elements within popular Buddhism are a symptom of the decline of the religion. Instead, it argues that this hybridity between traditional Buddhist beliefs and elements from other religions is in fact a symptom of the health and wealth of Buddhism, as it negotiates large‐scale commercialization and global modernity.
What others are saying
"Pattana Kitiarsa's ability to weave his personal experiences in with sophisticated anthropological methods makes this book a fascinating and moving read. It is a welcome addition to the field and should be read by everyone interested in religion and modernity in Southeast Asia and beyond."—Justin McDaniel, author of Gathering Leaves and Lifting Words (2008) and The Lovelorn Ghost and Magical Monk (2011)
"Medium, Monks, and Amulets sheds light on the changing landscape of contemporary Thai religion that is increasingly influenced by 'prosperity cults' from both inside and outside the Buddhist establishment. This book helps us to make sense of the religious universe, where magic monks, spirit mediums, amulets, deities, and other religious commodities of different sorts keep appearing endlessly."—Phra Paisal Visalo
Highlights
Focused case studies on individual cult practices, including magic monks, spirit mediums, amulet cults, and other prosperity cults

Written from the perspective of an anthropologist who is also a follower of popular Buddhism

 

Discusses not only the interaction of popular Buddhist practices with modern‐day lawmakers, but also of nineteenth‐century royal interaction with supernatural cults
About the author
Dr. Pattana Kitiarsa taught the anthropology of Southeast Asia and popular Buddhism in the Department of Southeast Asian Studies, Faculty of Arts and Social Sciences, National University of Singapore.
Reviews
Keywords
Thailand | buddhism | cults | spirit mediums | prosperity religions