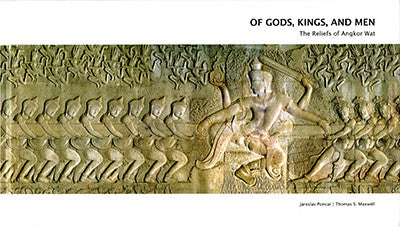 Year published :2006
Pages :192 pp.
Size :27.5x15.5 cm.
Rights :World except Europe
ISBN: 9789749511183
Text by Thomas S. Maxwell
100 full-page color photographs, appendixes
Built for the Khmer King Suryavarman II in the twelfth-century, the enormous temple complex of Angkor Wat consists of an outer enclosure surrounded by a moat, with three further concentric rectangular enclosures inside it. The rich and evocative bas-reliefs featured in this book are carved on the walls of the third enclosure.
Jaroslav Poncar has brilliantly captured the detail of these huge reliefs, measuring more than two meters in height and five hundred meters in overall length, using the high-precision technique of slit-scan photography. One hundred full-page panoramic photographs bring readers within the very walls of Angkor. Here, scenes from the great Indian epics, the Ramayana and Mahabharata, depict the dharmic history of the cosmos. One can admire the skill of the Angkorian artists at close proximity for their imaginative portrayal of this ancient narrative of struggle and conflict. The scenes are expansively explained and interpreted for the modern reader and observer by Angkor expert Thomas S. Maxwell.
About the Photographer
Jaroslav Poncar is Professor for Photo Engineering and Media Technology at the University of Applied Sciences in Cologne. He is currently in charge of photographic documentation of Angkor Wat as part of the UNESCO program for the preservation of Angkor.