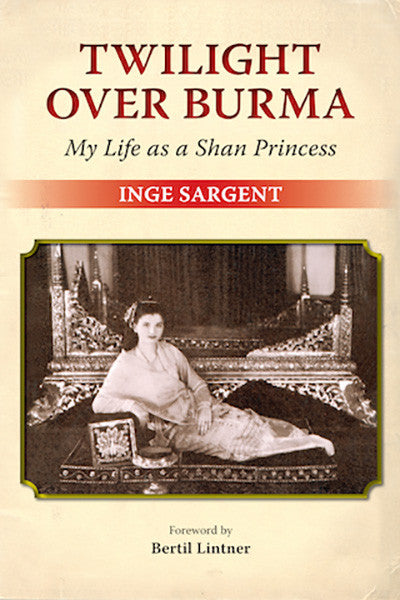 Year published :1994
Pages :240 pp.
Size :14x21.5 cm.
Rights :Thailand and Southeast Asia
ISBN: 9789747100617
Twilight Over Burma: My Life as a Shan Princess
by Inge Sargent
Just married and arriving by ship in Rangoon in 1953 to begin life in her husband's native land, a young Austrian woman stood ready to disembark with her Burmese husband. On the dock she could see hundreds of well-wishers displaying banners, playing homemade musical instruments, carrying bouquets of flowers. Was some important person aboard ship, she wondered. Then her husband reluctantly explained: he was more than just a recently graduated mining engineer—he was the Prince of Hsipaw, ruler of an autonomous state in Burma's Shan mountains. The welcome was for him and his bride, the Princess of Hsipaw.
For the next ten years, Inge Sargent experienced a life most of us only dream about. She immersed herself in day-to-day Shan life, eagerly learning the language, culture, and history of Hsipaw and its people. As a "reluctant ruler," she worked at her husband's side to improve the remote region's education, health care, and economic well-being. Their efforts on behalf of the Shan people made them one of the most popular ruling couples in Southeast Asia. Then in 1962 a military coup shattered their idyllic existence, and life irrevocable changed.
Twilight over Burma is the story of a great happiness destroyed by evil, the overthrow of one of Burma's most respected local leaders, and one woman's determination and bravery against a ruthless military regime.
About the Author
Inge Sargent spent almost twelve years in the Shan States of Burma. She now lives in the United States, recently retired from teaching. Her time is now devoted to writing, traveling, and occasionally, teaching.