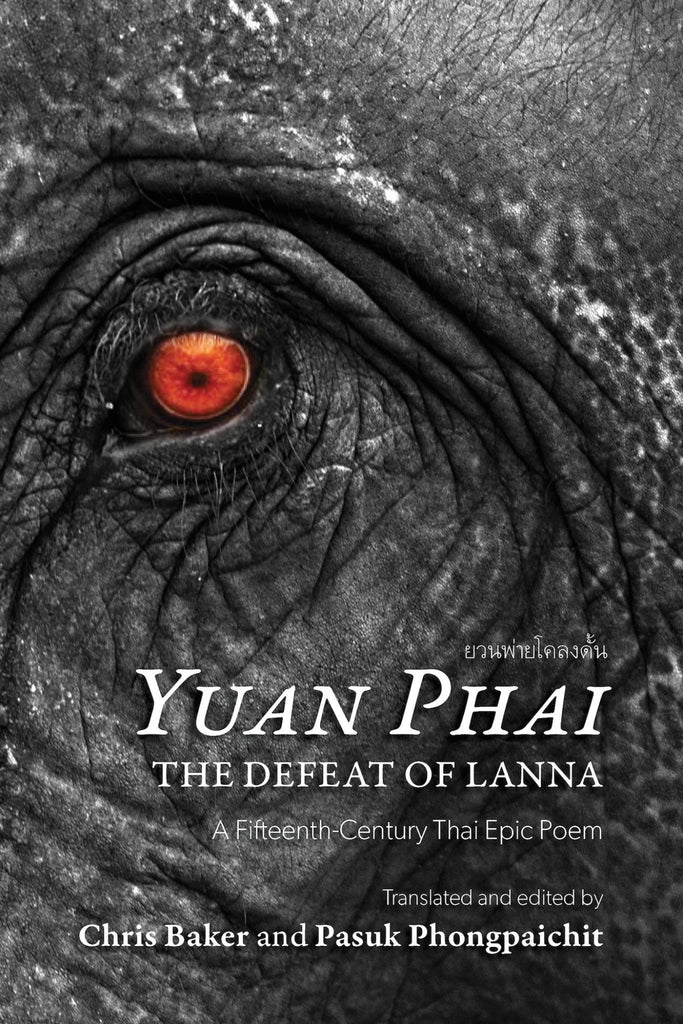 Year published :January 2017
Pages :200 pp.
Size :14x21 cm.
Black & White illustrations :3
Rights :World
ISBN: 9786162151255
Translated and edited by Chris Baker and Pasuk Phongpaichit 
Yuan Phai, the Defeat of Lanna, may be the oldest work of literature from Siam, most likely written after a battle fought in approximately 1475. The poem recounts many details of fifteenth-century events not found elsewhere. It has the earliest and most detailed description of a Siamese army, the most elaborate eulogy of an early Thai monarch, and a fascinating discussion of the concept of loyalty. The scenes of personal treachery, quiet heroism, bloody combat, and looting after victory give an absorbing image of early Siam and its ethos. 
This translation by a prize-winning team shares a remarkable but little-known work with a wider audience. It is fully annotated to explain many obscure words and concepts, and it is rendered in blank verse to convey the rhythm and atmosphere of the original. The introduction and afterword provide historical background, analyze the poem's form and content, and discuss its literary and historical significance. 
This publication was made possible in part by a translation subvention from the Henry Luce Foundation.
Highlights 
Translated and analyzed by two award-winning scholars in Thai literary translation
Shows royal and military practice in fifteenth-century Siam
Brings to life and makes accessible an esteemed Thai poem
Provides meticulous notes to explain uncommon words and alternate understandings
About the editors 
Chris Baker formerly taught Asian history at Cambridge University. 
Pasuk Phongpaichit is professor of economics at Chulalongkorn University.
In 2010 they won the A. L. Becker Southeast Asian Literature in Translation Prize for their translation of Khun Chang Khun Phaen. 
What others are saying 
"Baker and Phongpaichit have done it again. Here we read a masterful translation of a notoriously difficult poem that is a major contribution to the history of Ayutthaya, Sukhothai, and Chiang Mai, as well as being an unexpected blending of two often-disparate subjects: Buddhism and military arts. The introduction and afterword highlight what the poem teaches us about the art of debating, poetics, statecraft, religion, weapons, magic, and the importance of reading the stars."—Justin McDaniel, Professor of Religious Studies, University of Pennsylvania
Reviews 
Keywords 
Thai literature | classic poetry | translation | military epic | Siamese history | Ayutthaya | Lanna