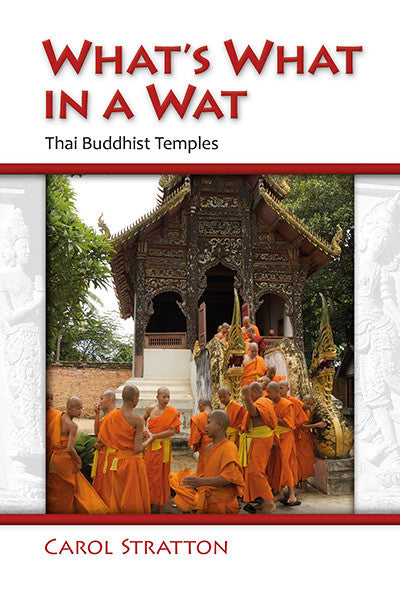 Year published :August 2010
Pages :104 (vi+98) pp.
Size :13x19.7 cm
Color illustrations :58
Black & White illustrations :72
ISBN: 9789749511992
What's What in a Wat Thai Buddhist Temples: Their Purpose and Design
by Carol Stratton
8 drawings, 72 b/w illus., 58 color illus.
As you walk through a Thai temple, a host of unfamiliar objects, shapes, and patterns tug at you from every direction. This handy and lucid guidebook will help you distinguish what is what. It takes you through a representative Thai Buddhist temple, guiding you from structure to structure and element to element, explaining the function and purpose of each, and the symbolism behind the forms. A Thai wat can be a place of bewildering beauty, but this illustrated companion will help you focus your eye and identify what you see. Tourists and residents, novices and scholars will all gain a clearer sense of what a wat is and the role it plays today in the lives of Thai people.
About the author
Carol Stratton has been researching and writing on Thai Buddhist art history for over forty years. She is the author of The Art of Sukhothai: Thailand's Golden Age with Miriam McNair Scott (Oxford 1981) and The Buddhist Sculpture of Northern Thailand (Silkworm Books, 2004).
Highlights
Detailed guide to Thai temple compounds
Definitions and explanations of architectural elements and structures
Richly illustrated with examples
Presents the temple in the context of Thai society
Author is an art historian specializing in Thai Buddhist art
Reviews
Keywords
Thailand | Thai temples | Thai monasteries | Buddhist temples | Buddhist architecture